Keep in mind...
You are using an older version of your web browser. This means that you might not be able to use all of the functions of the website. We recommend that you update to a newer version.
Text Jobba på Försäkringskassan
Åtgärder
Be a part of our work to create security for people when life takes a new turn.
What we offer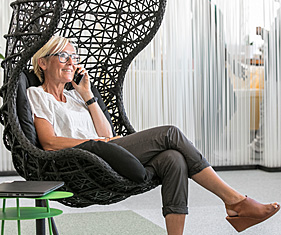 We offer you an interesting and challenging job that plays an important role in people's lives. Försäkringskassan is one of Sweden's largest government agencies. With locations around the country, it provides good opportunities for development and mobility. 
Most of our employees work in teams, where everyone takes great responsibility for the shared work.
We promote wellness care, and provide opportunities for flexible work. Working with continuous improvements is an important part of increasing public confidence in us. Being a public servant means that you share our core values in your work.
Shared fundamental values (arbetsgivarverket.se)
Our view of leadership and teamwork
At Försäkringskassan, we base everything we do on the principles of the Government's fundamental values. We shall always act based on the equal value of everyone, compliance with applicable laws, and providing good service to all citizens.
We need to run and develop our operations as a team. To achieve this, we must rely on our employees having a desire and ability to take considerable responsibility for their job.
The leadership shall empower our employees and teams to have the desire, skills and capability to work in line with our vision. At Försäkringskassan, everyone is equally responsible for serving as a role model and working according to our vision.
Our vision
Our vision is a society where people feel secure should life take a new turn.
We want to give people control over their own lives. Through knowledge, empathy and understanding, we will ensure that everyone who meets us understands their rights, receives the right support, and is treated with dignity.
Försäkringskassan was formed to give everyone the same right to security, and this good idea, to take care of each other, became even better when it was made accessible and equal for everyone.
related_links_related_links_template object_1
Åtgärder